The Artists in Residence opportunity at Skwachàys Lodge is a unique and life-changing housing program for practicing Indigenous artists. This includes subsidized housing in clean, unfurnished bachelor suites, 24/7 access to shared artist workshops, and access to programming opportunities for personal and professional development that help artists develop their craft and move into the next phase of their careers. A three-year residency is dependent on successful program participation and achievement of self-defined career goals. Emerging, mid-career, and senior artists are welcome to apply!
Maynard Thii-Hayqwtun Johnny Jr.
Coast Salish (Kwakwaka'wakw Nation)
Maynard Johnny Jr. (b. 1973) is primarily a self-taught artist who has been studying and working since the age of seventeen. He has been inspired by many Northwest Coast artists and particularly admires Robert Davidson, the late great Art Thompson, and Mark Henderson. Maynard is principally involved in graphic work but is also designing and creating jewelry in silver and gold.
Maynard is principally involved in graphic work but throughout his career, he has worked in many mediums including acrylic paint on canvas, wood and wood carving. His designs have garnered him a number of awards in logo contests for various Indigenous and non-Indigenous organizations. He was also privileged enough to design an 8-ft. by 3-ft. sculpture of a salmon that was donated to the World Trade Center in New York to honour those lost in the 9/11 tragedy. Maynard Johnny has been in a number of exhibitions including a Miniature Show at Alcheringa Gallery, a Young Bloods Show at the Douglas Reynolds Gallery and a Salish Show with Charles Elliot, as well as a few small solo shows. He continues to share the beauty of the Coast Salish through graphic painting, wood, glass, and metal sculptures.
     
Ya'Ya Heit
Gitxsan Nation
I began making art at a place called K'san in nearby Hazelton. At that time a lot of really good artists worked together there: Ken Mowatt, Vernon Stephens, Art Sterritt and Earl Muldon. I learned from all of them, but mostly from my Chief and uncle Walter Harris (GEEL). I started an apprenticeship with my uncle that lasted about 4 years. We hunted and fished and carved together eight days a week. When I was old enough, I was put into K'san's 'Kitanmax School of Northwest Coast Indian Art. I continued my apprenticeship at the same time. When I graduated from art school, they hired me as an instructor. That was a great and extremely lucky start for my career. I was 18 years old. Right from the start, my uncle had me working on some of his many large commissions. At first, I got to hollow out the backs of big totem poles and as my craftsmanship improved, he gave me small portions of the front to carve. And when I won my own commissions, I could only think of getting my uncle Walter to help me and he did so very happily and proudly.
In 2018 I entered into the great Skwachàys Lodge Artist in Residence Program dreamed up by the good people of the Vancouver Native Housing Society. I was attending the Native Education College Jewelry Arts Program and graduated from that on the dean's list. And I am the proud recipient of the very first Robert Tait Memorial Bursary Award. Next, I signed into a two-year jewelry studies program at Vancouver Community College and am enjoying learning more eye-pleasing jewelry techniques.
Justin Neal
Sḵwx̱wú7mesh Úxwumixw (Squamish Nation) | Screenwriter & Playwright
Brought up on Bainbridge Island, Washington, Justin left a marketing career in New York City to immigrate to his Indigenous homeland and earn a joint Master of Fine Arts in Creative Writing & Theater from the University of British Columbia, choosing UBC for its proximity to where his Squamish relatives live.
Justin's screenplay, THE SKINS GAME, currently in development with Curiosity Pictures and Really Real Films (with Jessica Harmon to direct), was selected as a participating project of the 2019 Netflix-Banff Diversity of Voices Initiative, was a top-ten finalist for the 2019 Canadian Film Fest, and a 2018 Whistler Film Festival/Praxis Screenwriting Lab project, among many other selections.
His interdisciplinary play, SO DAMN PROUD, selected for play development by Native Voices at the Autry Museum (LA) will premiere in Vancouver, BC, in February 2021 at The Cultch. Justin's pilot, BOUNDARY BAY, has been presented in staged readings with scores of Indigenous actors across Canada through his involvement with Testify Indigenous Law and Arts Collective. LNG, a play version adapted from the Boundary Bay pilot, enjoyed a first draft workshop at University of California, San Diego, organized by professor Julie Burelle and her UCSD Indigenous Theater classes in the spring of 2017. He is currently working on a new play, THE TRAVELER, as part of the 2020 Arts Club Emerging Playwrights Unit.
An artist resident at Skwachàys Lodge in Vancouver, Justin has worked on theatre and film projects in LA, NYC, the Bay Area, Seattle, and Vancouver in a variety of capacities, since 1998. With a long history working for arts organizations and institutions, Justin was a teaching artist for Red Eagle Soaring Native Youth Theatre and the special appointee for the Bachelor of Performing Arts at Douglas College in 2019. 
Joshua Pawis-Steckley
Wasauksing First Nation | Multidisciplinary Artist
Joshua Mangeshig Pawis-Steckley is an Ojibwe woodland artist/graphic designer from Barrie, ON. He is a member of Wasauksing, FN and has been living in Vancouver, BC, since 2015. He is currently an Artist in Residence at Skwachàys Lodge in downtown Vancouver practicing his acrylic painting and illustration techniques. His work aims to promote and reclaim traditional Ojibwe stories, teachings and culture while modernizing the woodland style and bringing it into mainstream focus through a variety of mediums.
He is an experienced graphic designer, painter, illustrator and screen-printer who graduated from the Graphic Design program at the Nova Scotia Community College in 2014. He has had several solo exhibitions with his latest being "Oshkimaadiziig" which was held at The Art Gallery of Sudbury from Sept-Nov 2019. He recently did a Google Doodle which was displayed on the Google search page on July 15th, 2019 and was the selected artist for the Vancouver Public Library banner project which showcases 6 large banners in the downtown Vancouver Library for the 2019-2020 year. He is currently working on illustrating children's books for Groundwood books and Harper-Collins.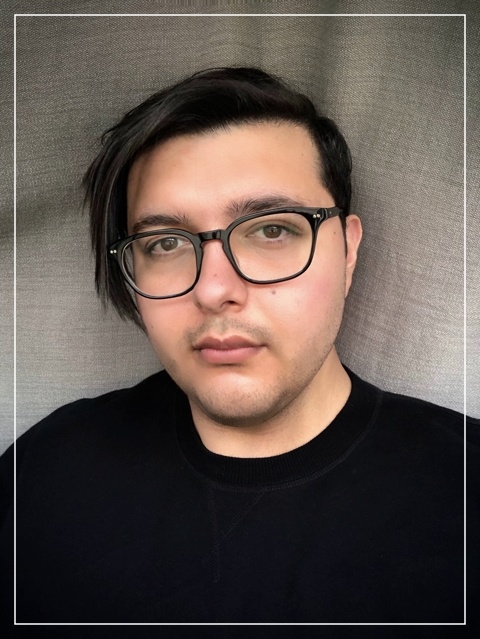 Jeremy Collins
Nlaka'pamux Nation (Upper Nicola Band)
Hello everyone. My name is Jeremy Collins and I come from the Nlaka'pamux Nation of the Upper Nicola Band. I was born and raised in the small town of Merritt, BC. I began my journey as a first-year Bachelor of Interior Design student at The Wilson School of Designs, Kwantlen Polytechnic University. I've always had a passion for all things in design, so I decided to make a career out of what I'm passionate about. During my first year as a student, I've taken up courses such as drawing and photography to further my creativity. Living here and being a part of the Artist in Residence program, being surrounded by creative people alike, has helped me stay focused on my artistic career goals. 
Crystal Tisiga-Bradford
Kaska Nation | Actress & Model
Crystal Tisiga is a Kaska Nations actress living in Vancouver. She was born and raised in Edmonton, Alberta. Kaska Nation territories are located in the northern interior of British Columbia and the southeastern corner of the Yukon. After high school she attended the U of A, completing one year in general arts and First Nations studies. After a year she went to Grant MacEwan College for nursing. In 2001 she made the transition to Vancouver and shortly after returning to school with the sights on Aboriginal Law. While in school in 2003 her father had a cardiac arrest and she rushed back to Edmonton to be by his side with her siblings. Being the eldest of 3 she was under a lot of pressure to support the family at this difficult time. After 6 months of working 2 jobs, her father's health stabilized where she was able to return back to Vancouver. In her return, she went on to pursue modelling and acting.
Crystal has walked local runways, local to international print ads such as for Kodak and Air China, commercial work for HP, travelled for modelling shoots and for a reality show pilot in Hawaii. Her film credits are from Percy Jackson, Hot Tub Time Machine, American Pie 7 and Reverie. In 2019 she worked on two short films in Vancouver, Red Moon and Reverie. She also had a guest star role on Tribal, directed by Ron E. Scott. Her character is Tawnya Smallbones in the second episode alongside Jessica Matten. She wrapped up the year with the art of clowning with David MacMurray Smith in a 3 month intensive. The past 2 years of consistent training with various coaches and workshops with casting directors. Her coaches include Christiane Hirt, Natalie Therriault, Jeb Beach, Deb Podowski, Ben Corns and Trish Allan. In 2017 Crystal got accepted into the Artist in Residence program at Skwachàys Lodge where she has been able to be consistent and focused on her acting career. She is represented by Principals Talent and her agent is Sean Burrows.
Crystal works as a full-time insurance broker. When she has time she cooks, trains at the gym, runs, hikes, reads, paints and spends time with family. Her mom lives here in Vancouver along with her two younger brothers. Her sister lives in Edmonton where she is a professional boxer. Her father passed in September 2014.
Cole Vandale
Destiny Clayton
Shoshannah Greene
Click here to check how to apply.
[powr-chat id="f2ec0b99_1610669480"]